CONTOUR LAUNCHES NEW MOBILE APP 
Contour launches new mobile app enabling farmers and agronomists to manage farms remotely from their phone.
Formerly known as SeeCrop or Pocket Precision, Contour launches their latest user-friendly, award winning mobile app and its packed with useful new features. Designed by agronomists and farmers, the latest mobile app is faster and simple to use on both mobile and desktop platforms, the mobile app being available on both iOS and Android smartphones from today onwards
Apart from a different look and feel, Contour offers the same core functionality as before, with an improved more intuitive user experience. With a focus on improving the user experience, and removing unnecessary clicks, the innovative technology enables the app to work faster, making for a more productive and responsive operation. Contour provides valuable soil data and crop analytics from your mobile anywhere, both on and offline, unique to you and your farm.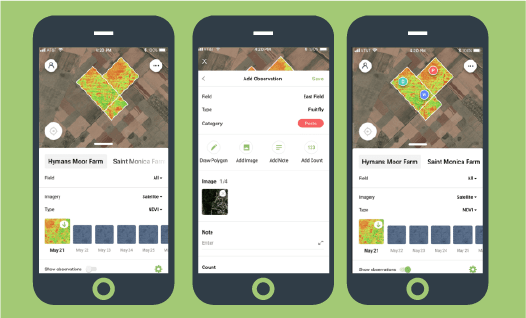 The app is localised and aligned with the new look and feel to the desktop version which Contour launched last week and has been rolled out to farmers and agronomists across all channels in the U.K, Africa, Ukraine, Romania and Poland.
"Contour – an insight service powering farmers and agronomists to make better data driven decisions."
CONNECTION AND LOCATION
No signal, no problem. Helping the farmer and the agronomist work as a team, the app is now available to use offline, meaning connectivity won't be a barrier to accessing your field. Any previous observations that have been recorded can be accessed from anywhere, any time. With the click of a button, the farmer can also update their location to the field they are in at any time.
ADDING OBSERVATIONS:
IDENTIFYING PESTS, DISEASES AND WEEDS
Scouting has never been easier and nor has identifying problem areas. The innovative tool supports the farmer to highlight over 260 pests, diseases, weeds and other problems. Farmers can record the precise location of the observation either as a point or a polygon drawn around the area, the farmer can now take a picture of up to four observations and share with the agronomist for further identification and follow up prescription. All the observations can also be viewed in all other versions of Contour – whether on desktop or mobile – for anyone who works on your farm.