Farming is changing with new environmental schemes, regulations, smart technology… but RHIZA is ready. All Agrii iFarms and Technology Centres include digital and precision trials in order to establish integrity in the solutions and advice used by RHIZA. In addition to this, we work with RHIZA customers to ground-truth our tools, which gives us the ability to learn from every season and farming situation.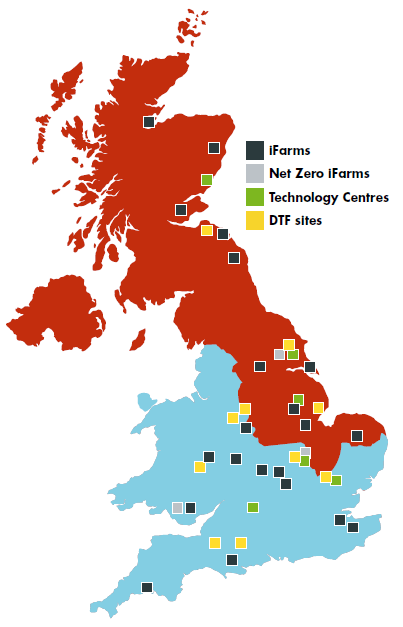 iFarm sites 
Black Isle
Aberdeenshire
Angus
Fife
Lothian & Borders
Northumberland
Yorkshire 
Holderness
Leadenham
Bartonfields
Spalding
Midloe Grange (Net Zero iFarm)
Norfolk
Ludlow
Bromsgrove
Winderton
Brackley
Newton Purcell
South Wales (Net Zero iFarm)
Fruit iFarm
Lenham
Dorset
South West
Digital Technology Farm (DTF) sites 
Midlothian (Seed & Co)
Yorkshire (D C Shelby)
Lincolnshire (Revesby Estate)
Bedfordshire (Bedfordia Farms)
Wiltshire (B Waight)
Hereford (M Meredith)
East Staffordshire (Atkin Farms)
Somerset (Lindsay Clark Partners)
Essex (A S Clark)
South Staffordshire (JB Adams)
Technology Centres
Bishop Burton (also a Net Zet iFarm)
Mid Lincs
Stow Longa
Throws Farm
AgriiFocus
our digital technology farms
The Digital Technology Farms are well-spread across the UK to give the best possible network of local hubs for down-to-earth trialling and information exchange.
Spanning a wide range of soil types, rotations and farming systems
Parallel field-scale trials each season
ADAS Agronōmics data analysis and reporting model
a data resource for smarter farming
The data gathered through our Digital Technology Farm network will be processed using the ADAS Agronomics model which can reliably 'prove' yield effects down to 0.1 t/ha. The data will also be a very valuable additional input into the five-year, €17.6 m. collaborative CONSUS digital, precision agriculture and crop science research partnership between University College Dublin and Origin Enterprises. As well as generating the best possible intelligence for immediate farm use, it will provide robust data for Europe's most advanced digital farming research.
"We have actually been finding the technologies increasingly valuable in a number of ways.  We're looking to make more and more of them as our DTF trialling shows us how they can best be applied to our own particular need."
"More accurate information used in the most effective way will undoubtedly help us farm even better and more sustainably."
"We are just beginning to appreciate all the things digital technologies can do."
Discover your farm's true potential.
RHIZA provides independent, stand-alone services to support your business. You can start at any level to suit your farm.
To talk to one of our support experts about what RHIZA can do for you, email info@rhizadigital.co.uk or call 03300 949150

© RHIZA. All rights reserved. RHIZA is a trading name of Masstock Arable (UK) Limited who is authorised and regulated by the Financial Conduct Authority (FRN 710790). RHIZA is authorised to act as a credit broker and not as a lender RHIZA is a trading name of Masstock Arable (UK) Limited. Masstock Arable (UK) Limited Head office; Station Road, Andoversford, Cheltenham, Gloucestershire, GL54 4LZ Register in England 02387531.