Whole Field Seed Planner enables greater accuracy
Every crop begins with seed, so why not be precise in how it's used?
Plant population is one of the fundamentals of crop performance, but it is easily affected by factors outside the grower's control, such as weed competition, soil type and nutrient status. Even the choice of seed treatment has been shown to influence the speed of germination and therefore establishment.
The RHIZA Seed Planner tool seeks to reflect these variables so growers can calculate their seed requirements accurately and avoid over- or under-ordering.
"As a seed calculator, the Whole Field Seed Planner delivers a level of flexibility to a system that was previously archaic. It enables growers to accurately calculate their seed needs on a field-by-field basis by reflecting varietal characteristics and the external factors that influence establishment," Sam Fordham, RHIZA Head of Technical, says.
The Seed Planner tool is the latest addition to the RHIZA platform and is available to all users. It supports grower desires to be precise in the use of inputs but without the need to be fully invested in variable rate systems.
The program has been developed with support of long-term RHIZA customers to ensure it is user-friendly and reflective of the considerations that influence seed rate decisions.
"Users can adjust base rate calculations according to drilling date, soil type, and other pressures, such as blackgrass or typical areas of pest damage. The user can then use the drawing tools or pre-scouted observations to create polygons around areas of specific concern that require a higher seed rate, for example, headland compaction," Mr Fordham says.
"A user can just as easily exclude a portion of a field using the drawing tools, perhaps where it is be sown to game cover or entered into stewardship, so it is not included in the final seed requirement," he adds.
If the user has a drill that supports variable rate application, GPS files can be exported to be transferred to the drill control unit.
"This allows a grower to utilise a great entry level, variable rate, planning tool at a low pricing point, without the need to invest in sub field mapping such as electro conductivity (EC) or satellite mapping and soil sampling. While EC mapping is the best way to understand and measure soil variation, the Whole Field Seed Planner tool allows growers to dip their toe into variable rate drilling before moving on to more accurate ways to achieve this," Mr Fordham says.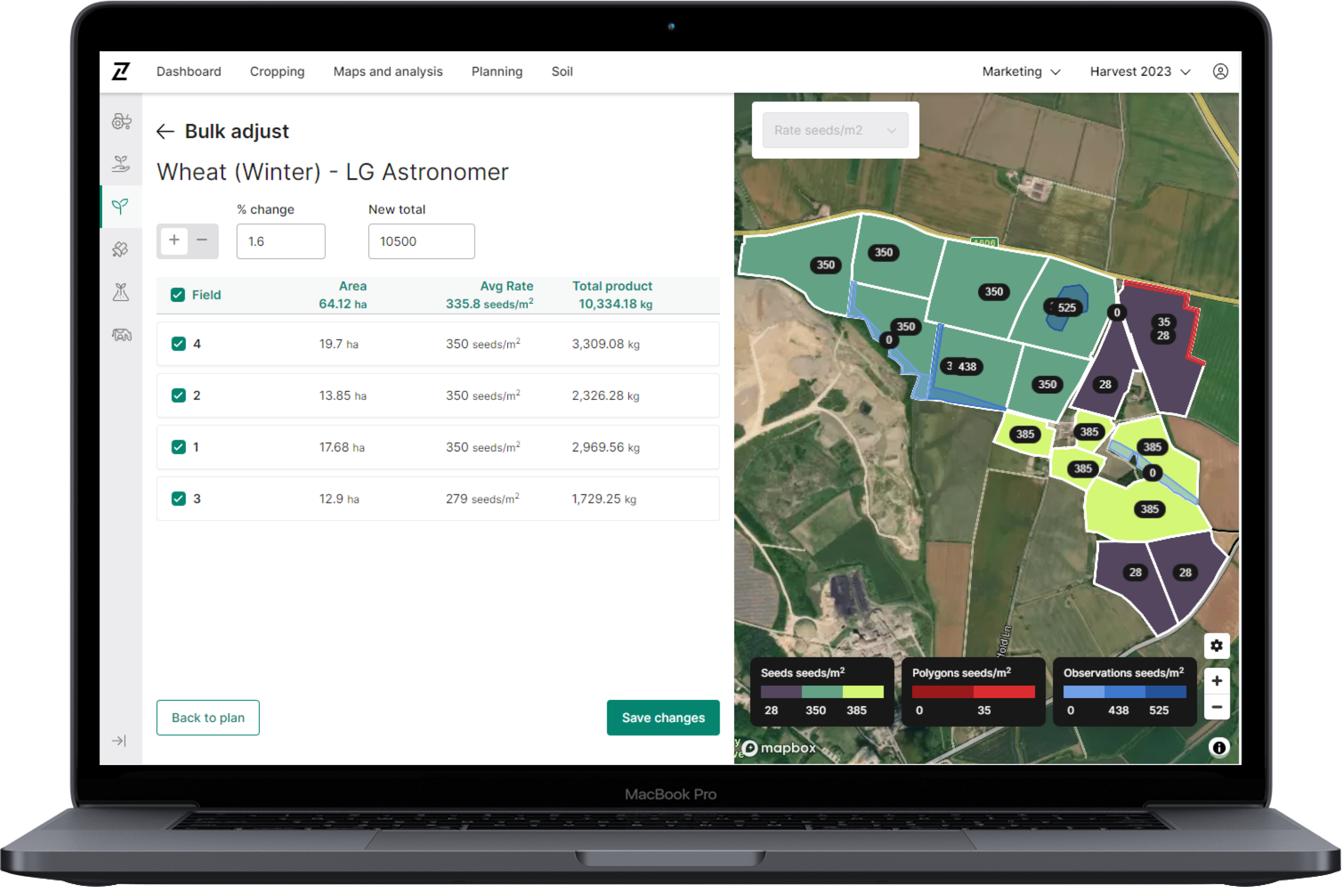 Aside from promoting greater accuracy in seed calculations, it can also be used to support scenario planning and action decisions made from scrutinising crop performance, explains Poppy Bunting, Agrii crop input specialist.
"The analysis and comparison tools within the platform provide a way to inform future decisions and support the drive for greater accuracy. Data layers such as soil type, texture, yield maps and imagery can be used for investigating crop performance and the reasons behind it," Ms Bunting says.
"Basic satellite imagery is often sufficient to scrutinise establishment success and crop growth. Seed rate maps can then be overlayed without the user needing to be fully invested in precision farming to properly analyse the significance of seed rate and variety choice on crop development," she adds.
Where cropping plans change, the plan can be easily amended to reflect the new policy, for instance to calculate the exact quantity of farm-saved seed that needs to be cleaned and dressed.
"Whether it is just good forward planning where the user wants to understand the impact of different cropping policies, for example with and without oilseed rape or sugar beet in the rotation, or a desire to investigate the effect of drilling date or the inclusion of a micro-nutrient seed treatment, each plan can be saved separately," Ms Bunting says.
The Whole Field Seed Planner will also support future developments, such as the introduction of margin mapping whereby yield, and application data can be used to scrutinise the financial performance of a field.
"Margin mapping is possibly one of the most useful features we could bring to RHIZA. As growers are encouraged to incorporate more in-field measures to promote biodiversity, tools such as margin mapping will help to ensure they are located where they will have the least financial impact," Ms Bunting adds.
The Whole Field Seed Planner paves the way for RHIZA's next development to be released, which will be zone-based seed planning to be released in September. This new functionality supports creating seed plans based on soil texture and variety characteristics data.
Either lab-based soil texture or soil scientist investigation data can be stored against 'management' zones created from either EC or satellite imagery. These can be used to create a variable rate plan to further inform decision making. These 'layers' can then be overridden by 'exceptions', scouted observations and ad-hoc polygons, all weighted to influence the plan as you develop it.
"This tool enables growers to accurately calculate their seed needs on a field-by-field basis by reflecting varietal characteristics and the external factors that influence establishment,"